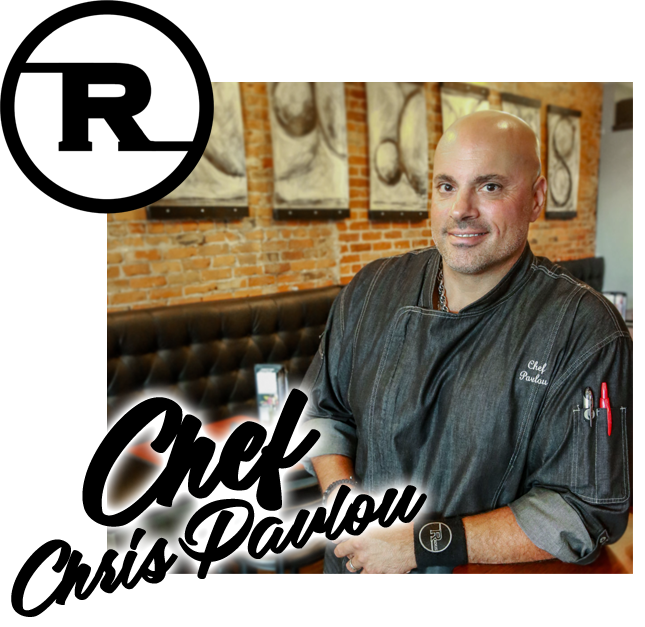 Downtown Valparaiso's Best Restaurant
To be named Valparaiso's best restaurant is a remarkable accomplishment. For Chef Chris Pavlou, his Greek influence is cornerstone to the Radius culinary experience. The menu isn't Greek. You'll find the Radius menu is better described as "comfortably cool". The best recipes from around the planet… with a Greek-American flare.
According to chef Chris, serving great food is not enough. Chris learned the Greek tradition of meeting every customer and making sure they have great service from his father. It's the experience that matters.
RADIUS NAMED
"2019 RESTAURANT OF THE YEAR"
Radius-Valpo was named Restaurant of the Year by the South Shore Tourism for 2019 and Best Signature Burger at the Chefs of Steel Competition. According to Chef Chris Pavlou, it is his insatiable desire to create a great experience for his customers that wins awards. Great food is just part of the Radius-Valpo experience.
An insatiable desire to please!
But its the American hamburger that he considers his canvas. With an insatiable desire to please his customers, the hamburger has no limits. His creative interpretation of the hamburger is garnering attention from Chicago and throughout Indiana.
The Radius Menu – Always fresh and always innovative
The Radius menu is more than just Valparaiso's best hamburger, Chef Pavlou's innovation is insatiable. From international dishes to the full Radius drink menu, the Radius menu is always fresh!
The Radius Keto Menu
The Radius Keto menu offers a healthy option with great taste. The new diet is all the rage…and now it has a delicious menu at Radius. Chef Chris Pavlou's innovative Keto menu is a hit with people that want a healthy alternative without compromise. Keto your way! We'll prepare anything on our menu as Keto friendly.
Radius Food Menu
Remarkable choice of wine, craft beer and innovative drinks
The Radius experience goes beyond great dining. With a diverse choice of wines and Valparaiso's best selection of craft beers, customers love catching a baseball or football game at the Radius bar. Of course, getting a seat at Radius sometimes comes with a little wait. The innovative mixed drink and cocktail menu is always fresh and always fun.
Valpo's best location, outdoor dining and live music
The insatiable desire to please customers doesn't stop with the innovative recipes of his diverse menu. Chef Chris set up his family restaurant in a location that is as extraordinary as his menu. In the heart of Valpo, Radius customers love to see and be seen. Nothing beats al fresco dining in downtown Valpo, and Radius is arguably the best seat in town.
Even his live entertainment has earned him a spot as a top pick for Valpo's best music venues.
Keep up with Radius on "Social Scene, Radius" or the "Events & Specials" page. Radius is more then one of Valpo's best restaurants…it's a gathering place.
Social Scene, Radius
Events & Specials
Buy Valpo Book & Support Cafe Manna
While Radius is proud to win awards & accolades, Chef Chris Pavlou's greatest reward is helping feed people in need and fighting hunger.
Buy Making Paradise Book & Movie Bundle
Buy the Book & Film, Making Paradise, through Radius' Online Ordering and 100% of the proceeds will be donated to Cafe Manna. Cafe Manna feeds people in need every Thursday night while giving these people a place where they are respected as a friend.
Making Paradise captures the unique history of Valparaiso & its University from its beginning in 1834. The film & book is as thought-provoking as it is entertaining. Shot in its entirety in Valpo, Making Paradise was Nominated by Florida's PAECA Festival for creativity in the International Film category.
Buy It Here - 100% Proceeds to Cafe Manna