Radius stands behind South Shore Tourism! Cheers to Spero & the South Shore CVA…well done.
This video and message is shared on behalf of Speros Batistatos and the South Shore CVA. We applaud the efforts of these remarkable people and hope everyone joins us in standing with them! Learn more. 
We Stand With Service
You can help support the tens of thousands of hospitality employees and businesses in the South Shore during this national emergency. From ordering carryout or delivery from a local restaurant, brewery or winery to giving great reviews to your favorite businesses, you can help make a difference. See ideas of how you can help below.
Some amazing local businesses have been helping out the Region, too! Click here to see some examples.
How can you help?
Help support restaurants and first responders through buying a meal at participating restaurants to be sent to the frontline. Restaurants so far include DOC'S Smokehouse, Radius, Bartlett's Fish Camp, White Rhino and Captain's House.
Order carryout, curbside pickup or delivery from a local restaurant, brewery or winery. Find a list here which we will update as we hear more.
Nominate an outstanding service employee from a restaurant, gas station, grocery store or other business for a R.O.S.E. Award here.
Buy gift cards for future use. See some gift card specials below.
Like or follow area attractions on Facebook or Instagram.
Rate and review your favorite local businesses and attractions.
Download We Stand with Service graphics to share on your social media. Click each one for a larger image.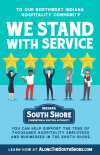 https://www.southshorecva.com/region/our-south-shore/support-local/