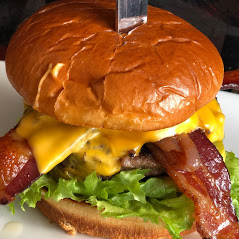 New Burger Wednesday! Radius' lets customer's choose!
If you are a fan of innovation, fresh ingredients, and gourmet hamburgers, make plans for visiting Radius every Wednesday! Every month, Chef Chris will launch a new hamburger that will only be available on Wednesdays. On New Burger Wednesday, Radius customers will vote by posting an image on the Radius Facebook Page or by casting a ballot at the restaurant.
New Burger Wednesday at Radius-Valpo

When the month ends, a different "Burger of the Month" will premier each and every Wednesday. At the end of 6 months, the top 3 Burgers will face off in the 7th month. The winning hamburger will be named and earn a spot on the legendary Radius Menu.
Each Month a New Burger will Premier…

While the All-American hamburger is often described as the canvas for Chef Chris Pavlou's artistic cuisine, it's the chef's insatiable drive to please his customers that inspires him.
As a past winner of NWI's best burger at the Chefs of Steel Contest, Chef Chris loves a challenge. But while he impressed the critics, it's the ability to impress his customers that matter most to him.
…the New Burgers will only be available on Wednesdays
This contest is meant to empower his customers with the decision of which of his newest burgers is good enough to make the grade. According to Pavlou, "my greatest inspiration is pleasing my customers. This contest will bring out the best in me!:"
A Tough Act to Follow | Radius Prime, Elvis Burger, Redenbacher
The current line-up of Radius Burgers is clearly a tough act to follow. The Elvis Peanut Butter Pretzel gained notoriety from the Chicago critics and helped make Valparaiso a destination for Chicago's biggest foodies. The Redenbacher is a burger worthy of its namesake and Valpo's most celebrated citizen.
My family loves the Radius Prime Burger. This burger comes with countless options that allow each visit to be unique and different from the past. At Radius, it's all about having it your way…and with an endless option of cheese, bacon, and other toppings, fans have their way!
Of course, the signature look of Radius is the golden onion ring that tops most of the Radius hamburgers. For a special treat, ask Chef Chris to share the story of how the onion ring became a part of the Radius experience. Chris loves to meet his customers and he loves to tell this story.
The Current Line Up | The Radius Hamburger Menu
Here is the current Radius lineup. We think it will be a tough act to follow, but Chef Chris is always up for a challenge, especially when it comes to pleasing his customers.
For a closer look and taste, here is the link to the Radius Ordering Page.
PRIME HALF-POUND BURGER
Butter lettuce, fresh tomatoes, crinkle-cut pickles, and red onions on a buttered toasted brioche bun
"CHEFS OF STEEL" SIGNATURE TRIPLE B BURGER
Blueberry bourbon bacon jam, grilled jalapeno cream cheese, smoked bacon, lettuce & tomatoes on a toasted pretzel bun
Philly Cheesesteak Burger
Thinly sliced ribeye steak, grilled onions, garlic aioli, cheddar cheese sauce, and our half-pound prime burger on a toasted brioche bun
RADIUS BURGER
Oven-baked parmesan/cheddar crisp, Applewood smoked bacon, garlic aioli, lettuce, tomatoes and caramelized red onions on a buttered asiago peppered bun
REDENBACHER
Our famous mac & cheese, applewood smoked bacon, beer-battered onion rings and smoked gouda cheese on a buttered asiago-peppered bun
ELVIS PEANUT BUTTER PRETZEL
Melted American cheese, honey, peanut butter and smoked bacon on a toasted buttered pretzel bun

GARLIC CHEESE CURD BURGER
Garlic cheese curds, melted swiss cheese, garlic mayo, applewood smoked bacon, marinara sauce & red onions on a toasted peppered asiago bun
THE BLACK & BLEU
Applewood smoked bacon, Danish bleu cheese, mayonnaise, crisp lettuce and tomatoes on a toasted buttered pretzel bun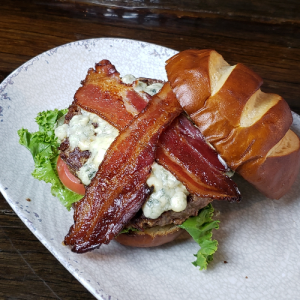 KETO BURGER
Our prime burger topped with melted white cheddar + smoked bacon + lettuce + tomatoes + red onions + cheese crisp + fried egg
The Next Radius Burger? You'll Decide!
New Burger Wednesday is every Wednesday at Radius -Valpo. It's your chance to help decide which burger will make the Radius Menu. Of course, when the smoke clears at the end of seven months, only one burger will be named the winner! But for fans of the All-American Hamburger, the real winner will be you! Cheers
Written by Jim Jano Janesheski