Radius keeps it fresh! What's new at Radius-Valpo
We think you'll agree that when it comes to creating a fun and exciting experience, Radius-Valpo knows a thing or two. In today's article, you'll get an inside track on everything fresh and new at Radius.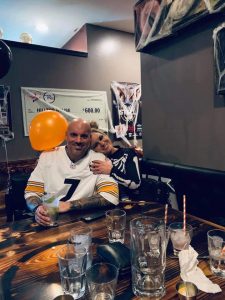 As the owner of Radius and President of the Valparaiso Restaurants & Retailers Group, Chef Chris Pavlou's first priority is to balance the safety of customers and staff with moving forward. It's a lot of responsibility, but the award-winning Chef has the broad shoulders to accept his role as a leader. According to Pavlou, "people need a safe place to go to keep their spirits up".
"We feel a responsibility to our community to keep things fun, whether it's exploring our newest menu items through online ordering or enjoying spirited conversation and remarkable live music at the restaurant. So like a Radius Hamburger, let's cut the fat and have some fun. Here is what's fresh and new at Radius Valpo".
The Radius Chef reveals his secret to his popular Radius menus
So while the Radius experience has been the subject of numerous videos and awards, Chef Chris believes the cornerstone to Radius-Valpo's popularity is his menus. Sure, people love the energy and excitement that comes with great live music, outdoor dining, and energetic staff. But at the core of the Radius experience is the innovative and fresh menus.
Chef Chris believes the current trend in the restaurant industry is to make crazy food using low-quality ingredients isn't conducive to a remarkable experience. While this might stretch margins and minimize risk, it's not what people want. According to Chef Chris, "real people want real food. Our menus are the real superstars at Radius.  Radius offers customers great food at a great price…using quality ingredients served in a fun atmosphere. Foofoo stuff doesn't offer a great experience. It's just cheap".
While great ingredients might be the secret sauce of the Radius Chef, Variety is the spice of life. You'll find both in the new Radius menus, from the food menu, drink menu, and even the live music menu. So, without further ado, here is a  fresh look at the new Radius menus!
New Food Menu
The only thing that Chef Chris Pavlou loves more than creating new recipes is the excitement and happiness it brings his customers. In the last few months, the charismatic chef has been developing new burgers, new variations of his customer's favorites and even all-new offerings never served in Radius.
The Chef even has new healthy options for gluten-free and keto diet fans. Everyone seems to be talking about the Radius Vegan Burger, a nice addition that Pavlou hopes will be as popular as his Radius Keto Burger. For a delectable healthy option, Radius even has plans for gluten-free chocolate desserts.
For a closer look at the new Radius Menu's…just click the menu. Enjoy!
While change is good, you don't mess with perfection. The best burger lineup in Northwest Indiana stays the course. The Prime Half Pound, Radius Burger, and the legendary Elvis Burger remain unchanged. While the All-American Burger might have put Radius on the map, the Filet Magnon Sandwich is a reminder that Chef Chris has an insatiable drive to always get better. Nothing is too good for Chef Chris customers.
New Drink Menu
Of course, they call it Team Radius for a reason, and his staff shares Chris Pavlou's insatiable drive to develop new and fresh offerings. This a particularly true behind the bar!
Bartender Captain and Assistant Manager Jen has a new line of innovative cocktails to raise your spirits and put a smile on your face. From Holiday cheer to watching a little football with friends at Radius, Jen believes her recent line of new drinks is her best yet. While Jen has the unique talent of creating drinks, it's her close connection with her regulars that inspires innovation. Her cocktails are just as gorgeous as they are delicious. Watching her team prepare the drinks are well worth admission… or it would if they charged to come in. Fortunately, the best bar in Valparaiso doesn't have a cover charge to visit!
While Jen tackles the mixed drinks, Chef Chris maintains keeping the craft beer and wine selection on point! Chef Chris has a talent for knowing what his customers like and when it comes to beer, variety is the best choice for the wide array of activities and events. For many, the $2- 16oz Miller HL is an enticing reason to spend a Sunday watching football on the numerous HDTV's.
Live Music and Craft Beer at Radius! Nothing can beat the experience of watching the area's best talent perform live music while kicking it with a rotational craft beer from Three Floyd's or 18th Street that comes on tap and in bottles… It's all about having it your way at Radius-Valpo.
While sampling seasonal brews might be tempting to some, others like familiar crafts like Bell's Two hearted and Lagunita's. Wine lovers can choose from the House Wine and 2nd Tier Wines.
The Spirit of the Christmas Tree…Valpo's new tradition is Friday, Dec 11th
At this time-the following event is subject to cancellation based on the factors surrounding COVID-19
As President of the Valpo Restaurants & Shops, Chris Pavlou and the other restaurants and community-spirited retail shops are bringing a new Christmas tradition to Valpo. It is meant to capture the essence of Christmas through old fashion traditions, including decorating Christmas Trees in front of each establishment the day of the event. People that attend the event will have a chance to vote for the best Christmas Tree.
Free Stockings, compliments of Downtown & Uptown East,  will be given to each guest. Stores and restaurants will have special Christmas Gifts and ornaments in-store to fill their stockings. Available gift shopping items include Gift Cards to the restaurants, bottles of wine and port, and the participating retail stores will have special gift items available to fill your stocking with care.
Many restaurants and stores will also serve outdoor refreshments, while others will serve Food and Spirits within their restaurants. Retailers will also have a great selection of Christmas Gift ideas to choose from. It's a great way to celebrate the spirit of Christmas and enjoy Christmas shopping that supports small businesses.
NOTE: At this time- it is not certain if the stores and restaurants will sell the stocking specials indoors or outdoors.  COVID-19 State & Local rules will be observed. Celebrating Christmas comes with responsibility.
Fresh & Updated Social Scene Radius… Stay Connected!
If you missed the Adult Trick Or Treat Event, you missed an experience that had everyone talking for weeks. From 1 Cent shots, Free Exotic Chocolate, and a night of insanely creative costumes. People didn't hold back on this frightful night of fun….from sexy to the absurd. This was a night to remeber. You experience the memories on Social Scene -Radius.
Fortunately, Radius keeps you connected from the convenience of your own device. Just bookmark this fun page and you'll never miss the fun. Who was performing live? Why is she with him? What group of friends met for a little outdoor dining?
The Page that keeps you connected with selfies, group photos, and more.You'll find it here.

Radius News & Events…
Find out who is performing live, what new food & drink specials have people talking!, Mak your plans early by staying in touch with News and Events.
You'll also find special announcements. Did you win the Radius sweepstakes at the Halloween Party? Who won the Free overnight stay at the Aberdeen Inn? Here is a little teaser. Stay tuned!
Discover the freshest things to do… You'll find it here.